Finding the best long distance movers can be tough, but with the help of some research, you see the perfect match. Selecting the cheapest company isn't enough; you have to find one which delivers the best services as well. Those who take care of everything from 1500 to 2000 dollars lack in many things; if you have chosen from interstate moving companies, you would know that this is an unbelievable price: the fuel expanse, the storage, and the packing service nothing can be provided in that little price. So if a company is offering you a package which totals to 1500, double check the services they are providing.
Storage is always a part of the package:
Some scammers trick you into paying extra for the warehouse when it should be the part of the deal. A friend of mine decided to hire a "reputable" moving company for her. She was quoted 1700 dollars for the whole move about what she was delighted.  She paid about 500 dollars to the company on the day they took her belongings to transport. She spent another 500 on the second day as planned. On a third unlucky day, she discovered that she had to rent storage because the company doesn't offer a storage facility. She placed her belongings in a warehouse which charged her a massive rent and the cost of moving reached a total 5000 dollars.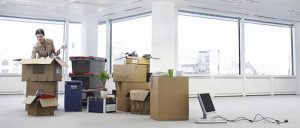 Cheaper options may cost you more:
One more trick some scammers do is that they quote a low price for the whole move, but once the cargo reaches midway, they keep the belongings hostage and demand more. You are then required to pay the price else the company holds your stuff, and you can't do anything about it.
Pay attention to the quality of service:
It is essential to choose from best moving companies; if you go from cheaper options you won't find quality services, but if you select a company which is charging you an amount equal to the value of your house, well, you won't be able to move at all.
Research about the company:
Not everyone in the industry is a scammer though; you can still scan through affordable moving companies to find the best match for you. Take your time to do the research, ask around, talk to former customers and above all, read reviews. You can find a good moving for you.
Tags: Commercial Moving Services, cross country moving, interstate moving company, local movers, long distance movers